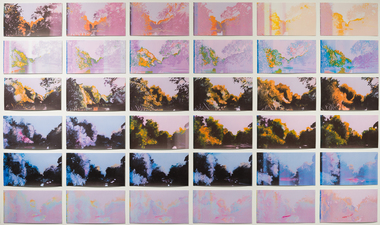 Guadalupe-After Images
"Invasive Species:Landscapes by Justin Boyd, Adrianna Corral, and Joey Fauerso Artpace, Hudson (Show)room, September 11th-December 28th, 2014 For 'Guadalupe-After Images' I used video footage taken from a boat ride on the Guadalupe River. At a certain point the boat moved through the trees, the perspective changed, and the image abstracted. There was a physicality to the sequence and a sense of one space opening onto another that I was interested in working with. Brian Eno writes "With a generative piece you set a machine going and it makes itself, and you as the composer are also the listener. The act of listening is the act of composing." While the first part of my project involved a labor-intensive and largely traditional approach to making a painting, the process quickly moved towards a 'generative' approach to image-making that was mostly independent of the hand. The final installation consisted of 187 prints and a 55 minute single channel projection.
---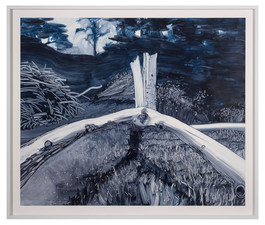 Parallel Myths
Parallel Myths-David Shelton Gallery Michael Bise, Joey Fauerso, Keith Mayerson, Vincent VAldez June13-July 12, 2014
---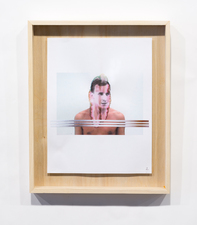 Stage Theories
Stage Theories addresses the intersections between drawing and performance-the ways in which a primary experience, with all of its immediacy and awkwardness, can be translated into a mediated experience, something that is composed, theatrical, while still retaining the imprint of the original encounter.
---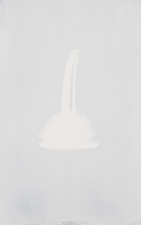 Drama
Drama in it's strictest interpretation is simply an act--an action to be done, or more specifically, performed. Joey Fauerso, in her exhibition Drama, takes the simple notion of a performed gesture, a cue for an actor, or a general understanding of drama as a theatrical genre and inflects it with a variety of influences that open up possibilities for re-reading art historical and contemporary treatments of the subject. Through painting and video of the male nude, Fauerso calls out glaring imbalances of representation in the Western cannon. She does this by combining references as multi-varied as the perceived innocence and poses of Victorian Era erotica, the hard questions of more-recent Feminist and critical theory, and formal traditions of figurative painting. -Chad Dawkins, The Current of Drama