---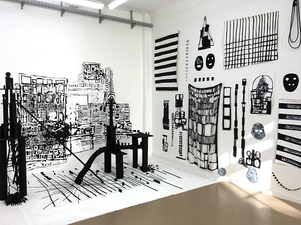 Kunsterlhaus Bethanien
I recently finished a 3-month residency at Kunstlerhaus Bethanien in Berlin. The below paragraphs describe projects I am currently working on started in Berlin.

Your Destroy Every Special Thing I Make (We Fall to Pieces) "You destroy every special thing I make". This was something my younger son said to the older, and became the starting point for the ongoing project entitled 'You Destroy Every Special Thing I Make (We Fall to Pieces)'. For this project I have made, and continue to make a collection of objects-wooden blocks and canvas pieces-that are constantly being shuffled into new constructions. After completion I record the destruction of each piece. Sometimes my children help to dismantle the assemblages in a variety of ways. The piece is evolving as a series of photographs of the constructions, installation of the blocks and canvas pieces, and ultimately an accompanying video collecting all of the destruction footage.

Collection/Agency This project is a collaboration with my brother Neil Fauerso who is a cultural critic and poet. The project is interested in the intersections between collecting and power and the ways that collections canonize and organize history, culture and nature. The piece assembles an ongoing collection of collections that draw from current and historical sources. Often times the collections are collections of collectors. Some collections so far included included are: endangered animals in Daryl Richardson's Dallas World Aquarium, gear in Lee Scratch Perry's Black Ark Studio circa 1975, CIA black sites, cameras/lenses used by Stanley Kubrick in his career, meteorites found in West Texas, and the current members of the United States Senate health care committee. The piece will ultimately culminate in an installation of paintings, sculptures, and a publication.


---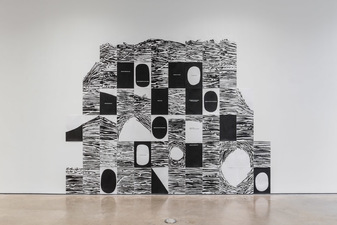 A Soft Opening
Joey Fauerso's kinetic solo exhibition, her second at David Shelton Gallery, revels in the flash of possibilities. Across text, painting, film and sound, Fauerso luxuriates in a coiled chaos, telescoping from the whimsical, joyful intrigues of family to the dark, cresting tides arising from a year where the world is gripped with hatred and panic.

Several of the works space longer, surreally didactic poems with Fauerso's monochrome paintings. Some of the text from the poems comes from things said by her children during make-believe games. As Fauerso states, "When children play and make-believe, the assigning of meaning and value is incredibly fluid. There is an elasticity to the naming of things." These sequences are simultaneously instructive and disorienting, and much of the meaning alights and connects through the process of arranging.

The exhibition is inspired by Fauerso's life, family, what she reads and what is happening in the world. Fauerso is keenly aware of the gap between these streams and the way they lattice together. Marcel Duchamp once referred to the space between components as the 'infra-slim', and suggested meaning could be located within this invisible seam. As A Soft Opening demonstrates, the infra-slim goes on forever.

-Neil Fauerso


---
Pretend This is a Trap
Pretend this is a trap focuses on Joey Fauerso's attention to material, process, symbolism, and figuration. Fauerso's new body of work is comprised of paintings and monoprints on multiple surfaces arranged into clusters around a central textual theme. The arrangements point to a temporal and physical stripping away of color and visual density, bringing together a subtractive acrylic painting technique and the sequencing formatting of video. The process of the paintings and prints coincide with Fauerso's use of live-action and animation in her video work. The procedural back-and-forth of working between physical and digital platforms reveals the issue of relenting and regaining control—in art making, in society, in life. The modular units comprising video data, sheets of paper stock, un-stretched canvas or segments of text, offer Fauerso a mass of material to draw from, editing out and rearranging the elements into a cohesive whole. Limiting color benefits the artist in that setting this monochromatic boundary allows for more potential in the compositions themselves.

-Chad Dawkins, Associate Gallery Director, Texas State University


---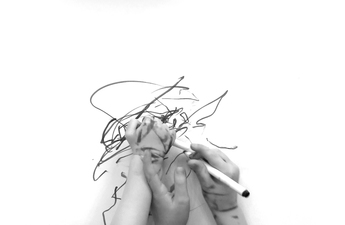 Drawing Battles
'Drawing Battles', exhibited at the Drawing Center in New York, Southwest School of Art, She Works Flexible, and the Blue Star Museum of Contemporary Art, is a series of video works shot over the two year period I participated in the Open Sessions program at the Drawing Center. Consisting of eleven collaborative drawings, the pieces were made with my family and friends, reflecting a range of familial dynamics. Like a series of heated discussions, the drawings talk to, through, and over each other, with gesture and performance as the dominant means of expression.


---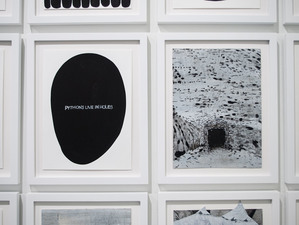 Reclaimed by Nature
Featuring the work of Mexico City- and San Antonio-based artists from multiple generations, Reclaimed by Nature reflects upon the problematic coexistence and fragile boundaries between human industriousness and the natural world. Exploring environmental interventions of man-made artifacts and spaces, the works on display examine and celebrate natural forces as a timely reminder to attain a much-needed balance between what we create and what exists, despite of us. -Claudia Arozqueta
---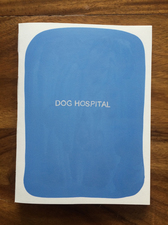 Dog Hospital
"Dog Hospital" reflects my interest in language, sequential imagery, and the parallel experiences of parents and children. About a year ago I began writing down the conversations my two sons were having when they were playing different kinds of make-believe games. 'Dog Hospital' juxtaposes two ways of processing illness. The text comes from an afternoon listening to my sons enacting a make-believe 'Dog Hospital'. The drawings respond to their story through the lens of my own experiences with sickness and treatment. Dog Hospital was printed with Hare and Hound Press in San Antonio in an edition of fifteen. A complete PDF of 'Dog Hospital' can be seen under 'Publications'.